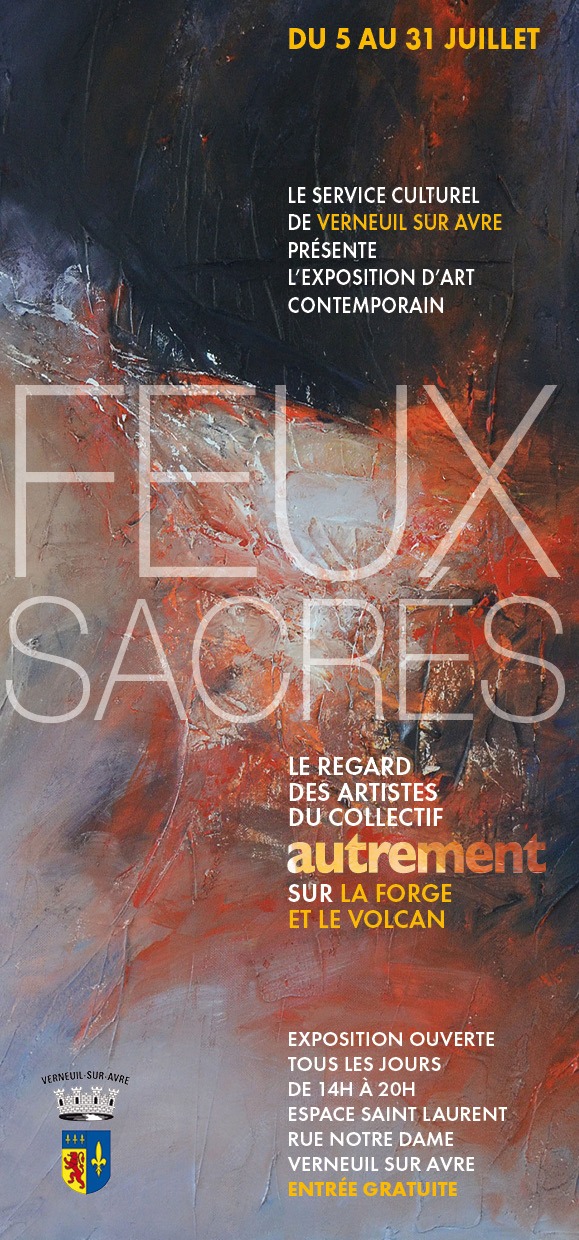 VERNEUIL SUR AVRE (FRANCE) - 2016
« AUTREMENT collectif » is organized around a core group of seven artists: painters, sculptors, visual artists.
Seven different personalities
– by their production
– by their background
– by the techniques they use
– by their sources of inspiration.
« AUTREMENT collectif » proposes to present to the public Contemporary Art events all built around a theme.
Choosing a theme such as SACRED LIGHTS (FEUX SACRÉS) is not only choosing a theme rich in images, carrying infinite potentialities and conducive to all variations.
It is also to offer to works elaborated in solitude workshops to converge, to meet, to add up, to dialogue, to make common work.
By choosing the theme SACRED LIGHTS (FEUX SACRÉS) , the artists of  AUTREMENT collectif have accepted to face the difficult exercise of the imposed figure, as exciting by its difficulties as by its potentialities.

The artists of the collective lead you from the forge to the volcano on a path of sparks, lights and forms: paintings, sculptures, installations, they have … the SACRED FIRE.
NOVARUPTA is the original soundtrack of the exhibition « Feux Sacrés ». Throughout this album Phil St George gives a musical echo to the exhibition.